30 Day Bladder Fix DVD Press Release
PBS Suzanne Andrews 30 Day Bladder Fix Pelvic Floor Exercises Top Ten DVD on Collage Video
Kegel exercises alone are not enough to stop prolapse and urinary incontinence. Learn the right pelvic floor exercises to treat prolapse and overactive bladder in Suzanne Andrews Collage Video best seller, 30 Day Bladder Fix.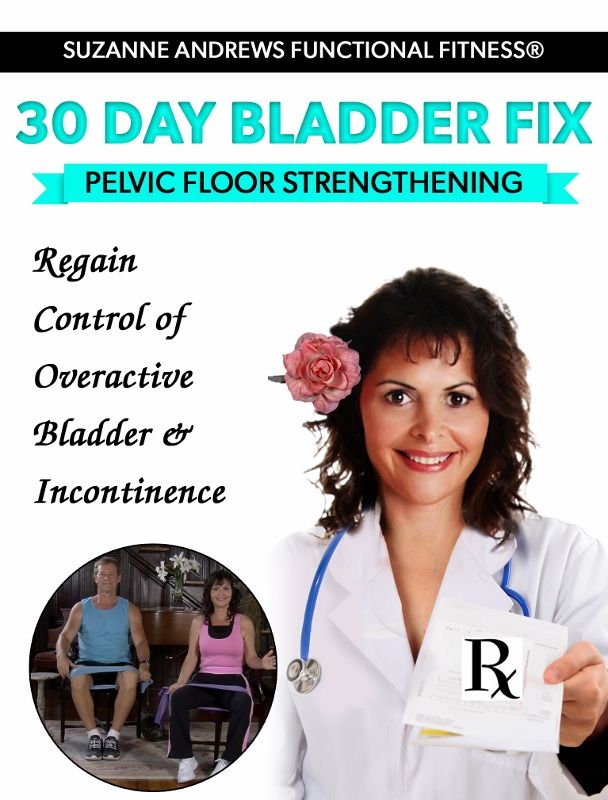 Jan. 5, 2016 - PRLog -- If you suffer from prolapse and urinary incontinence you know how horrible it can be. The embarrassment. The fear. The frustration.  If you're not too embarrassed, you talk to your doctor and get pills.  Then you find out bladder medications come with harmful side effects and they don't always work. You contemplate surgery. After all, what other choice do you have, right? It's not something you look forward to. And you've heard a lot about all the nasty complications. The infections. The lawsuits. The stories of surgery gone wrong.

No stranger to having had urinary incontinence herself, Suzanne Andrew's, founder of Functional Fitness on Public Television explained, "I'm sharing a totally embarrassing part of my life so other women don't have to suffer or be a slave to expensive padded briefs, embarrassing accidents and limited social outings. Fortunately I no longer have this problem, thanks to the exercises in 30 Day Bladder Fix. The program was succesfully implemented in rehab centers throughout the US before producing it on DVD. The strong need for 30 Day Bladder Fix is evident as it reached the top ten best seller list on Collage Video and has a high sellout risk.
When Andrews started producing Fitness DVDs for specific health needs in 2008, she knew her mid-life through senior age clients deserved carefully selected at-home workouts that were already proven to work in physical and occupational therapy sessions. After all, if you are having heart problems, you don't go to an orthopaedic doctor, you go to a cardiologist specialist.  So why go to a fitness instructor when you really need a rehab clinician experienced in medically proven exercises for your specific health condition?   With 30 Day Bladder Fix, you learn the correct sequence of evidenced based pelvic floor exercises in the comfort of your own home without the $400.00 a month plus co-pay.
30 Day Bladder Fix for urinary incontinence is the only DVD that teaches more than Kegels by instructing a 36 minute AM session performed seated on a chair and a 20 minute PM session you do lying on your bed.
Suzanne Andrews founded Functional Fitness in 2008, the most popular fitness series for boomers and seniors broadcasting on over 159 Public Television stations throughout the US and Canada. Read Suzanne's inspiring comeback story of how she survived a near fatal accident, From Deaths Door to Producing a National Fitness Series. Feel free to send Suzanne a message here.